News
2019 Edition of @CSUresearch Now Available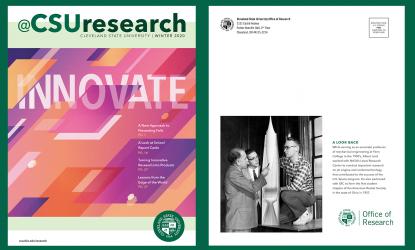 The Office of Research is pleased to announce the publication of the latest edition of @CSUresearch, which can be accessed by clicking here. Physical copies will be distributed across campus in December.
@CSUresearch showcases the outstanding scholarship conducted by faculty and students as well as the efforts CSU has taken to transfer technology, innovation, and knowledge to the marketplace and Northeast Ohio. This year, CSU's research magazine focuses on the innovative people, research, and teaching across campus.
Previous editions of the magazine that highlight our high-impact, community-centered, and unique research can be found around campus or accessed online.
PUBLISHED
January 10, 2020