What is EMDiS?
The Entrepreneurial Manufacturer Digitization Support (EMDiS) Center of Excellence at Cleveland State University was created to assist small-to-medium size manufacturers with the implementation of digital manufacturing technologies and to support the education and training of the smart manufacturing workforce of the future. Whether you call it Industry 4.0, Smart Manufacturing, or the Industrial Internet of Things (IIoT), EMDiS experts can help identify and implement digital solutions that bring value to your business.
With the support of a Venture Challenge grant funded by the U.S. Economic Development Administration (EDA), EMDiS brings together faculty from across Cleveland State, with an emphasis on engineering and business expertise. EMDiS is ready to assist clients in the manufacturing, healthcare, biomedical, aerospace, energy, and technology sectors.
Working with EMDiS is easy, and we customize our support to fit the needs of each client. Starting with no-cost consulting meetings, EMDiS builds a relationship with you to understand your business and how digital tools can make you more productive, agile, and resilient in the face of economic challenges and supply chain disruption.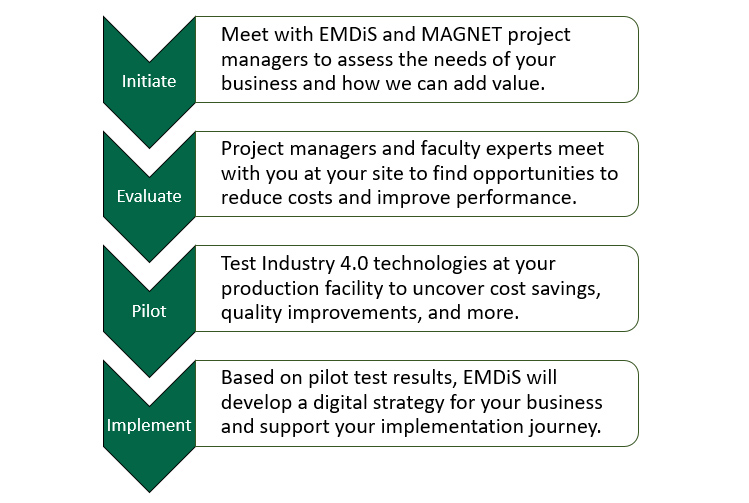 As EMDiS grows, we will add more services for clients and opportunities for membership benefits.
Interested in learning more? Please take a few moments to fill out the Client Inquiry form.